For the latest player statistics, please visit the EIGCC Play Cricket page.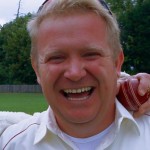 Zac Coley – Captain
Our glorious leader and general good egg. The ubiquitous Brummie is a true all rounder, equally able with bat, ball and wicket keeping glove. He's also a master fielder close in, though don't ask him to throw it in from the boundary, because it won't make it! Specialisms: Flipcharts and villany (sic).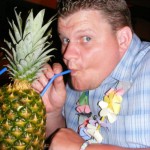 Mike West – Vice Captain
Long standing member of twenty years plus, Westy is twice the player he used to be. A hugely reliable opening batsman who constantly scores runs regardless of the state of the pitch. The ball can be sent to all parts of the ground, though 95% of the time you'll find it somewhere between deep mid wicket and long on. Specialisms: Barbecuing and breaking machinery.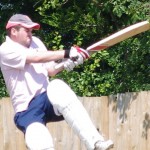 Paul Wilkinson – Vice Captain
Whiskers is one of the few players at EIGCC to have had a public school education and as such can occasionally be seen to play with a straight bat. A consistent run scorer who can also operate with aplomb behind the stumps. Specialisms: Cider and beard growing.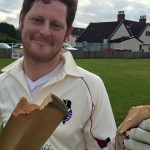 Sam Coleman – Vice Captain
Don't be fooled by the charming manner and debonair appearance, this man is a quiet assassin.  A quick bowler of dubious back-foot style, Sleepy is also a fine middle order batsman who regularly troubles the scorer and sometimes also scores runs. Specialisms: Changing logo colours and breaking bats.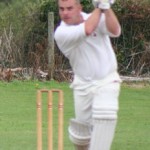 Ian Pearce
One of the long standing members of the club, Pearcey has been performing at the Rudgleigh ground since the nineteen eighties. An opening bowler (from the Rudgleigh End please) with a fiercely competitive spirit, and also a fine middle order batsman. Specialisms: Keeping the ground immaculate and replacing roofs.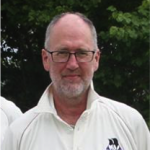 Robin Scott
Another of EIGCC's long standing members, Robin is a wiley wicket keeper who can also occasionally be found officiating at something called 'League Cricket!' When not playing or umpiring Robin acts as a stunt double for the leader of her Majesty's opposition. Specialisms: Cycling to the game and a yoda like knowledge of the laws.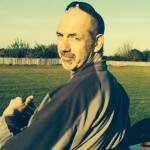 Rich Anderson
Giraffe like opening bowler who specialises in bowling uphill, occasionally taking wickets. Rich has also been known to score runs and on his day bats with gay abandon. A stalwart of the club he is also club secretary, looks after ground hires and reaches stuff that no-one else can get to. Specialisms: Triathlon and banging head.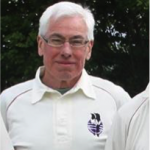 Chris Brown
Our very own legal eagle, Chris brings a sense of calm and academic rigour to a club which is often lacking in both. A canny spin bowler who consistently finds a nagging line and length, he is the scourge of many a top batsman. Specialisms: Removing the tail end and providing logic where it is generally lacking.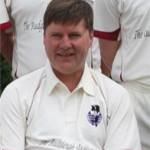 Duncan Moss
A true legend of EIGCC, Duncan has been performing at the Rudgleigh ground since before many other players were born. A stylish batsman who combines elements of the traditional english gent with a hint of caribbean calypso mayhem. Specialisms: Alternative footwear and bat decoration.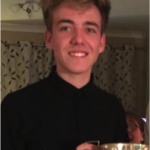 Joe Crutchley
A product of the EIGCC academy Joe is a talented spin bowler and useful left handed batsman, although he occasionally needs reminding that not every ball needs hitting to the boundary. Outstanding fielder with the world's longest throw. Specialisms: Driving Westy's Maserati around the outfield and under age drinking.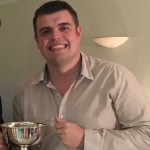 Rich Sanderson
A sporting great, recent recruit Rich attended Loughborough University no less, where he excelled at rugby. No huge surprise as this proud English colossus was actually reared on a Welsh hillside and is a fluent Welsh speaker. No, he really is! Unfortunately injury curtailed a promising rugby career, but egg chasing's loss was cricket's gain and Rich is now a key part of the EiGCC attack with both bat and ball. Specialisms: Avoiding buses and changing Bristol's skyline.
Coming soon…
Mark Newland
Caolan Pearce
Matthew Crutchley
James Dickinson
Chris Hickling
Sam Crutchley
Peter Holman
Andy Barr